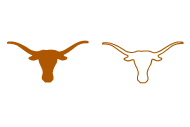 If you would like to download the sample True Type Font we displayed on our website on the Logo Enhancement page, please read the following and then click on the download link below. The file size is only 4k and should download in just seconds.

File Description
The download file, longhorn.ttf, is a True Type Font we created by scanning an image, which we then manipulated in Photoshop, and then took in to a program we use to create fonts. Once installed as a True Type Font, the font name will be called Dinghorns.

How Do I Install a True Type Font?


Once you have downloaded the file and saved to a directory, go to your Control Panel in Windows 95 (or 98), and then select the Fonts icon. Once you have opened the Fonts window, select the File pull down menu and the click on "Install New Font". When the Add Fonts box appears, select the directory and folder where you saved the downloaded file. If no font name appears in the list of fonts, hit Cancel and try again... this time the font Dinghorns Normal [True Type] should appear. Highlight the selection Dinghorns Normal [True Type] and then click on OK. This will install the font into your True Type Fonts directory and can be used in most any program that use TTF fonts.
How Do I Use the Dinghorns Font?


Once selected, the Dinghorns font only has two available characters: By holding down the [Shift] and [A] keys (for a capital "A"), you will get a SOLID character. By holding down the [Shift] and [B] keys (for a capital "B"), you will get an OUTLINE of the character.
Try This Out!

If you are using Windows 98 and have installed the "3D Text" screen saver, set up the program using the Dinghorns font and then type in [Shift] [A] or [Shift] [B] to select the icon. You can then select a variety of controls for speed, size and movement. Play around and experiment with different settings. Just think of the custom screen saver you can create with your company's logo if you choose to have ENHANCED web SERVICES convert your logo to a True Type Font.
Download True Type Font
Click on the file name below to download:

If you don't have PKZIP to unzip this file, we will mail the font to you on diskette at no charge. Use our Info Request form and indicate under "Additional Comments" that you want the True Type Font file mailed on diskette.
---
Call ENHANCED web SERVICES today for a FREE quote on your logo design or enhancement at 979-690-9246 or send us an email at info@getenhanced.com.